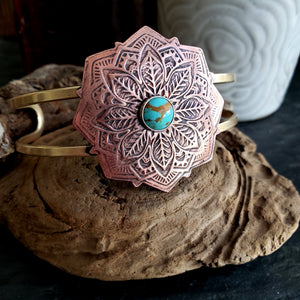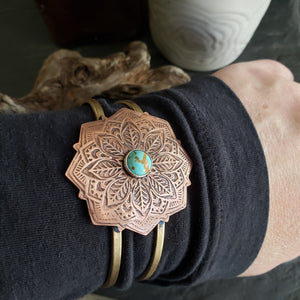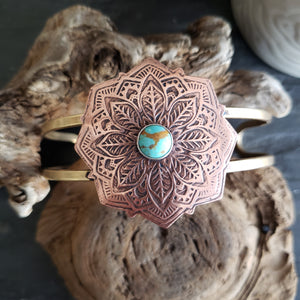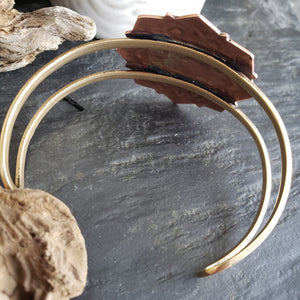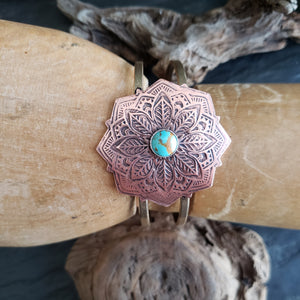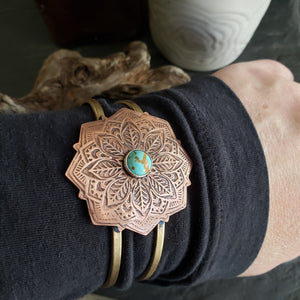 Copper Mandala Cuff with Turquoise
This rustic copper mandala bracelet is made with an adjustable brass cuff to fit all wrist sizes. An 8mm round turquoise cabochon sits in the center of this beautiful, leafy design. This detailed design is achieved by pressing 18 gauge copper sheet in a hydraulic press with a die. Several sessions of pressing, annealing & pressing again are needed to create a crisp impression. The cuff is then oxidized and polished to give depth to the design. It is then sealed with wax to resist oxidation. Regardless, copper will oxidize with wear, but is easily cleaned with a polishing cloth.
An 8mm turquoise cabochon is set in the center in a sterling silver bezel. Turquoise comes in many different hues and textures. The cuff you receive may have a different variety of Turquoise than the cuff in the photo. It may not have the brown matrix pictured, it may be uniform in color, it may be smooth, or it may be faceted. It will always be genuine Turquoise, but market & supply chains may affect stone availability.