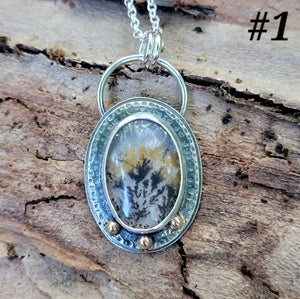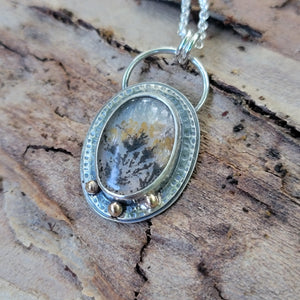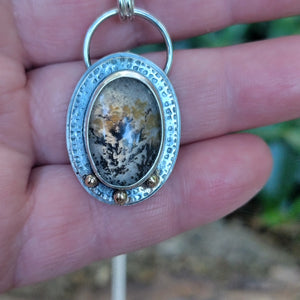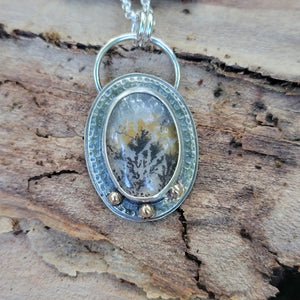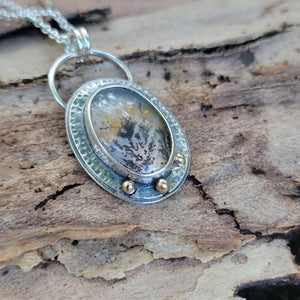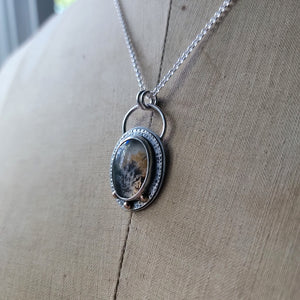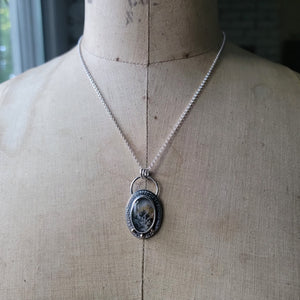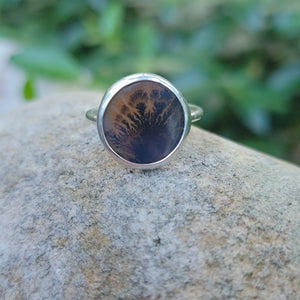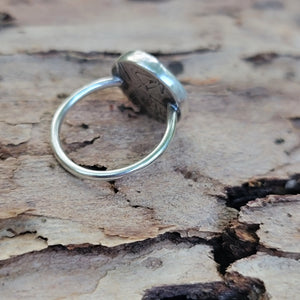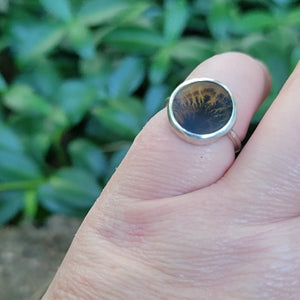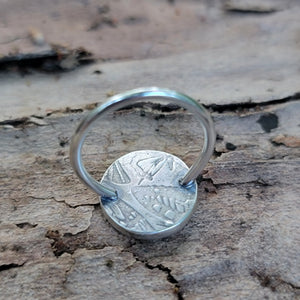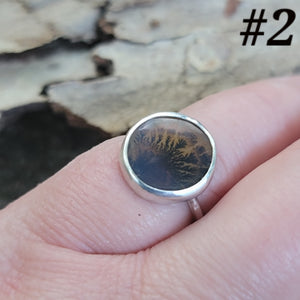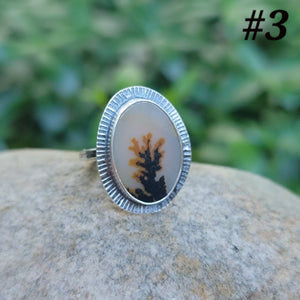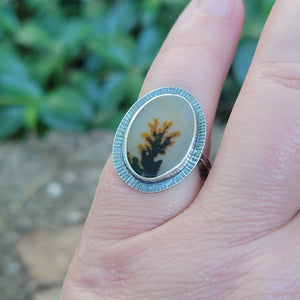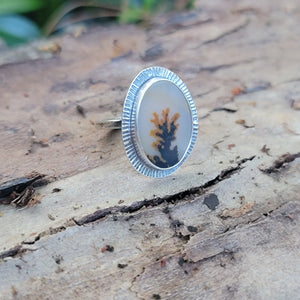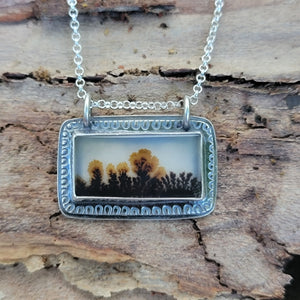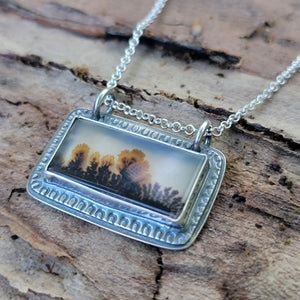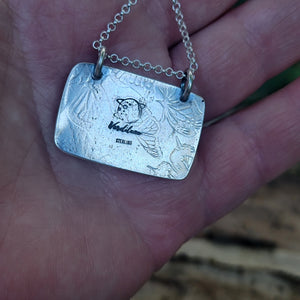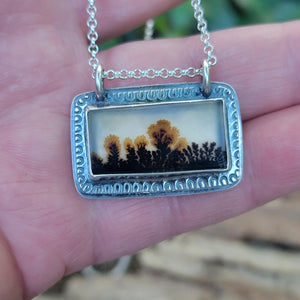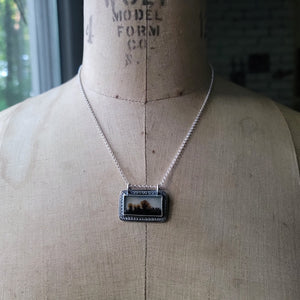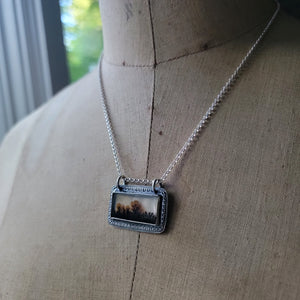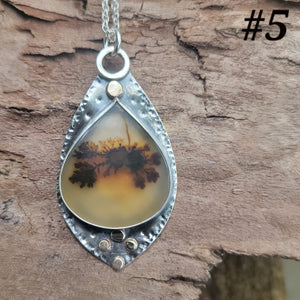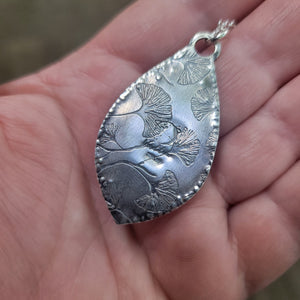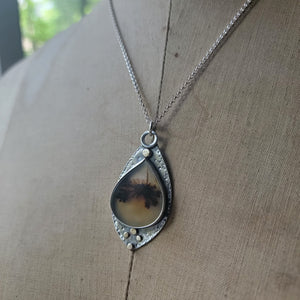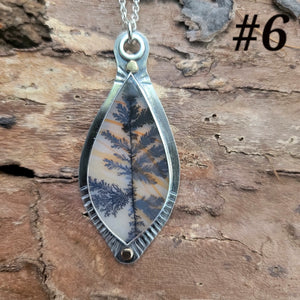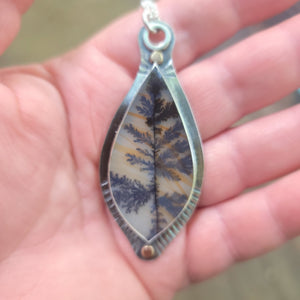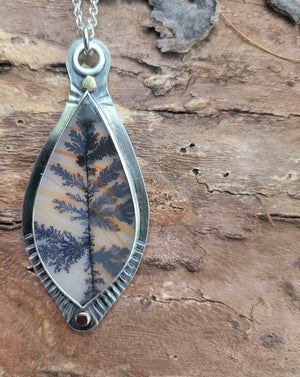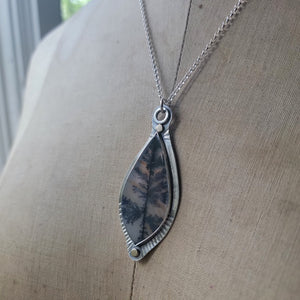 Dendritic Agate Collection in Sterling Silver
Each piece in this collection has an incredible focal stone called Dendritic Agate, all cut by GodsOwnPaintings on Instagram. 
Dendritic Agate, sometimes called Tree Agate, gets its name from a Greek word meaning tree-like. These Agates are usually colorless, white, or gray, and have tree- or fern-like inclusions of iron or manganese, called dendrites.
Dendritic Agate is known as the Stone of Plentitude. It brings abundance and fullness to all areas of life, from business to agricultural endeavors. It was associated with the ancient Greek dryads, woodland and tree spirits, and was buried in the fields at the time of sowing to insure a good harvest.
All pieces are constructed by hand in sterling silver. The pendants are adorned with droplets of 14K gold. All pieces are oxidized in liver of sulphur, and polished to bring out the highlights of the silver. The pendants have bright silver 18" sterling rolo chains with lobster clasp closures. 
Pendant #1 measures 1 1/2" long × 7/8" wide.
Ring #2 is size 6.25, with a narrow band made of 14 gauge sterling silver round wire.
Ring #3 is size 7.5 with a textured rectangular ring band.
Pendant #4 is set on a double layer of handstamped sterling sheet, and has a butterfly garden texture on the reverse. The pendant measures 1 3/8" wide and 7/8" tall.
Pendant #5 is a teardrop shape, measuring 2" tall by 1 1/4" wide. Textured by hand for a rustic texture, with 5 hammered 14K gold balls for mega sparkle.
Pendant #6 is an elongated teardrop shape on a single layer of sterling silver sheet, textured in the reverse with a gingko leaf pattern. Adorned on both ends if the stone with hammered 14K gold balls. Pendant measures 2 7/8" tall and 1 1/4" wide.