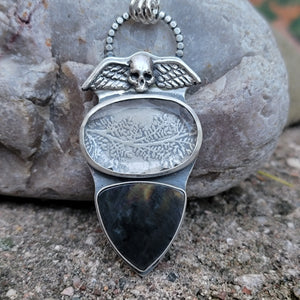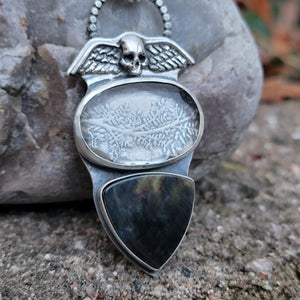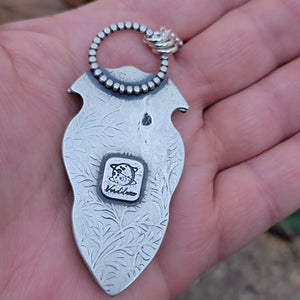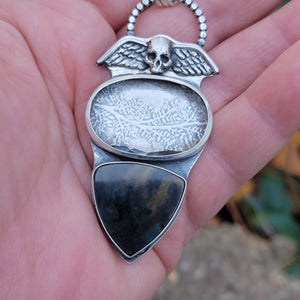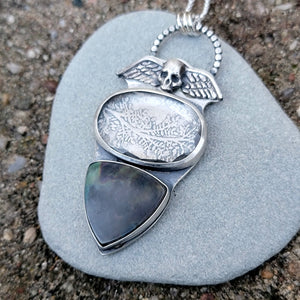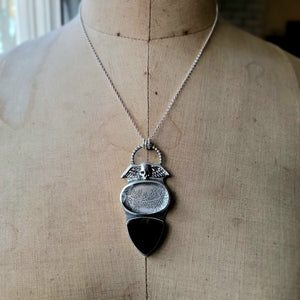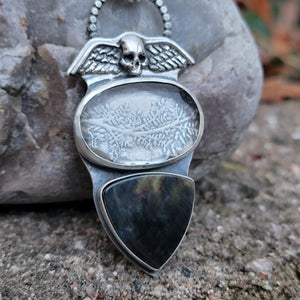 Memento Mori Pendant wtih Quartz Crystal & Spectrolite in Sterling Silver
This pendant is invokes a sense of a mausoleum, gravestone rubbings, winged death and Victorian Memento Mori. The winged death skull was hand cast in sterling silver. Beneath it is a faceted quartz crystal cabochon, with what appears to be a piece of a an etched garland on an old headstone peeking out from beneath. The last layer is an ephemeral spectrolite cabochon, which is black when looked at straight on, but flashes of blue, green, yellow & orange and other colors can be seen when the stone is turned in the light. Bright sterling silver rolo chain, finished with a lobster clasp closure. The pendant has been oxidized in liver of sulphur and polished to bring out the highlights of the silver.
Note* there is a small pockmark on the back of the pendant (see photo) that occurred due to an airbubble in the recycled sterling silver that was used. It in no way compromises the structural integrity of the design.