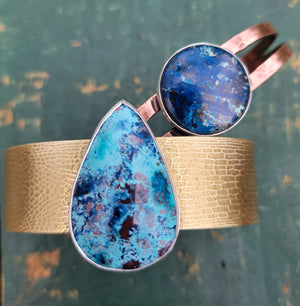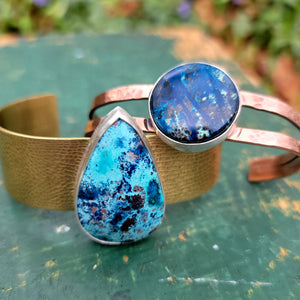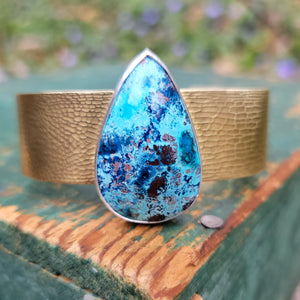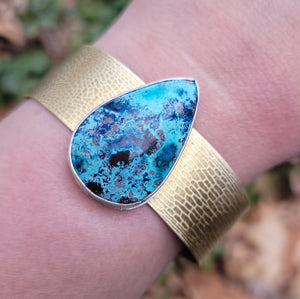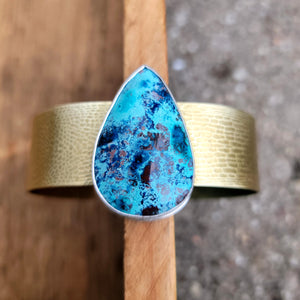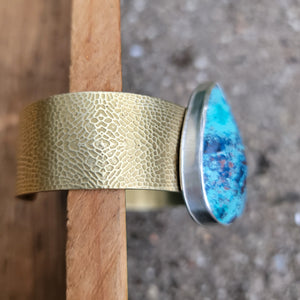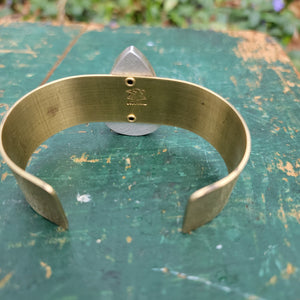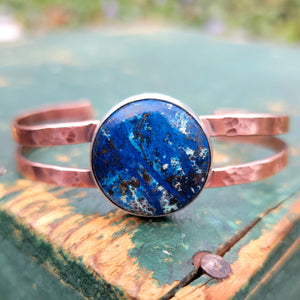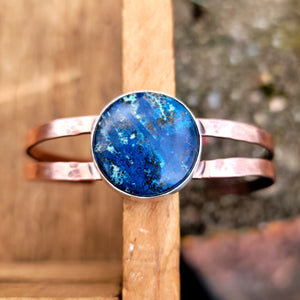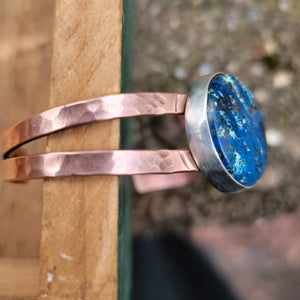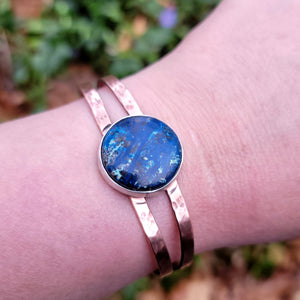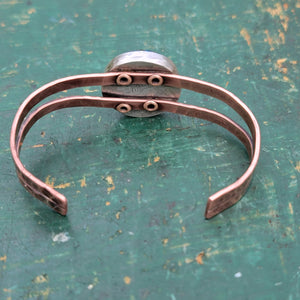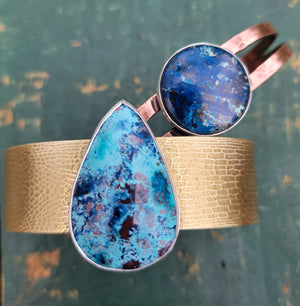 Shattuckite Statement Cuff Bracelets in Copper & Brass
These cuffs each have a beautiful stone called Shattuckite (detailed description below.) This stone is opaque with solid hues of midnight blue, cerulean, turquoise blue, cornflower & sepia. Yes, I am using Crayola color names because something about the stone reminds me of melted crayons. The cabs are all set on a base of sterling silver sheet, with sterling silver bezels. Each setting is riveted to textured brass bands.
Teardrop specs: Cab measures 1 1/2]" tall × 1" wide. The band has a magnified dragonfly wing texture and is 1 1/4" wide.  Adjustable to fit a medium to large wrist (size 7-9).
Round specs: The band is a double hammered copper band. Cab measures 7/8" Adjustable to fit a small to medium wrist. (size 6-7.5)
Copper and brass will oxidize with wear, but is easily cleaned with a polishing cloth.
Shattuckite is an uncommon copper mineral that is highly regarded for its vivid blue color. It is named after the Shattuck Mine in Bisbee, Arizona, where this mineral was first discovered. Shattuckite occasionally forms within Quartz crystals, underneath the top layer. This creates striking blue formations of Quartz, sometimes with sparkling blue druses. Some collector specimens of Shattuckite are polished to fully bring out the color effect, especially when associated with Malachite, with a blue and green color effect.