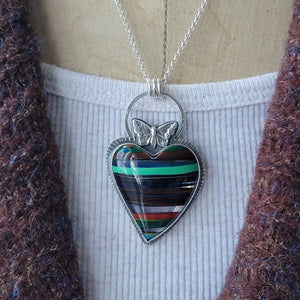 Surfite Heart Pendant with Butterfly in Sterling Silver
If you thought the fordite car paint was cool, here's something even cooler - Surfite or surfboard paint! Google it - it's pretty fascinating.  Stripes of different colors are layers of paint, including the clear coat used to finish the surfboards. I love that this "stone" is actually a waste by-product and I incorporate many repurposed materials in my work.
Set in a smooth sterling bezel on 2 layers of 22 gauge stamped sterling silver sheet. Above the heart is a tiny butterfly. The butterfly was made by hand by pressing recycled silver in a hydraulic press against a steel die, then sawed out and sanded.
*NOTE* You can purchase as a pendant ONLY without chain or as a pendant with chain combo.  Please make your selection in the drop-down menu.